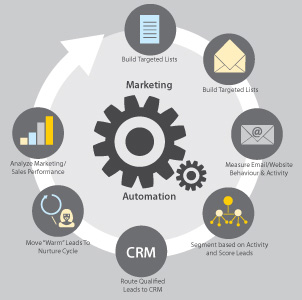 When your marketing automation systems are aligned, you generate more leads and make more money, more easily and quickly. We call it Sales and Marketing Automation Alignment (SMAA) and we're here to help you achieve it.
Our systems experts have deep experience with the world's most popular marketing automation tools—Marketo, Eloqua, Acoustic (formerly Silverpop), HubSpot, Salesforce Marketing Cloud, and Responsys, among others. They know how to build a strategy around them to get the most out of them individually and as a whole.
You'll get a meaningful perspective into your digital marketing landscape. Greater visibility into customer data—and behavior. It's all about removing obstacles so all your customers' journeys take them to your bottom line.
We love ideas. We have lots of them.
But our most important idea is about putting ideas to work.
That means using the right tools and getting the right data in the right places to be able to communicate effectively with your customers and prospects throughout their journey.
Xcel Agency has deep campaign, customer relationship management (CRM) and marketing automation (MA) experience. We can help you manage leads from the front of the funnel to purchase and upsell, and then measure every step along the way. Of course all these revenue generating efforts require clean data and to keep you competitive.
3rd party email sponsorships come in two flavors: dedicated solo emails and sponsored newsletter emails.
Dedicated Solo Emails
Dedicated email advertising, also called email drop, dedicated e-blast, newsletter blast, and email list rental, is an advertising method where a publisher sends a message on behalf of an advertiser.
Sponsored Newsletter Emails
Sponsored newsletter advertising differs from dedicated solo emails in that you don't own 100% share-of-voice; your banner ad is included alongside the publisher content, and possibly other advertisers.